Oily hair is nothing more than excessive sebum production. However, oily hair generates numerous problems to our hair health, beyond the aesthetic factor (dull and low volume hair); such as increased hair loss.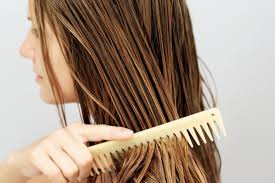 Many of those who suffer from this problem often wash their hair repeatedly and this can also be harmful as it becomes a vicious circle that contributes to increased sebum production with the consequent greater loss of hair.
Therefore, below, we show you some solutions to improve the health of your hair.
If you have oily hair and do not know how to solve this problem, a good starting tip would be to try to wash it beforehand with bicarbonate. Massaging baking soda on the hair before applying the shampoo and washing as usual can go a long way.

If this does not work for you, you can start thinking about making your own homemade shampoo for oily hair because commercial shampoos are very likely not to be the solution. Depending on the surfactants that commercial shampoo uses, they can even be counterproductive and overstimulate the sebum production of your scalp.
Natural shampoos can be prepared in different ways. If you use the saponaria herb or the washing nuts then you know that you will get the most natural and respectful shampoos with the skin of your scalp. These shampoos produce very little foam, but that doesn't mean they don't wash. Something similar occurs with the shampoos with which we use a base of potassium soap or natural castile soap.
However, if you use a neutral shampoo as a base or natural surfactants derived from coconut oil, then you will get a shampoo with characteristics very similar to those of commercial shampoos but without its disadvantages.
WE PROPOSE YOU SEVERAL DIFFERENT RECIPES:
A very easy recipe if you have saponaria root powder is to make a shampoo that contains bicarbonate, which as we know regulates hair fat. In this case, we will also add lavender extract that also works by regulating excess sebum and providing volume. In the case of oily hair, we could also substitute lavender extract for rosemary extract.

Ingredients:
2 tablespoons of baking soda
1 tablespoon of fresh lavender
2 large cups of water
2 tablespoons of saponaria powder

OTHER POSSIBILITY:
35 grams of saponaria root
2 cups of water
1 tablespoon of green clay
10 drops of lemon or lavender AE
Procedure: In a saucepan, bring the water to a boil and when it is boiling add the saponaria. Stir well until it is integrated.
While stirring, add the baking soda and lavender at the same time.
Boil for 15 minutes over low heat.
Finally, remove the mixture from the heat, strain it with a fine strainer and let it cool down. Place the open jar or pot in a cool, dry place to cool down, since you won't be able to use it until after 12 hours of rest.
Personally, I find that this shampoo works very well (especially in the case of psoriasis problems and chemical sensitivity) except that it is too liquid and that its application is complicated. We have tried to thicken it with guar gum but the mixture, when it cools down, becomes completely liquid again.
That is why we propose an alternative recipe to make medicinal shampoo for oily hair.
That is why we propose an alternative recipe to make medicinal shampoo for oily hair.
MEDICINAL SHAMPOO FOR OILY HAIR
-400 ml of saponaria infusion
-100 ml of coconut betaine
-A quarter cup of concentrated potasic soap. It is found in many drugstores as it is also used to wash clothes.
-A tablespoon of jojoba oil, which does not grease. On the contrary, it regulates the hair sebum. Replaceable with fractionated coconut oil, or hazelnut, almond or even virgin olive oil.
-One tablespoon of rosemary or lavender extract
-One tablespoon of baking soda or clay
-Optional *: 2 tablespoons of vegetable glycerin
-One tablespoon of xanthan gum to thicken the product.
-10 ml of Salvia Sclarea that stands out for its properties to regulate skin and hair oil.
If your problem is not about hair fat, you can also make this same shampoo / shower gel, with other different essential oils and other plant extracts.
For example, instead of rosemary extract, you can use lavender, rose or chamomile extract (which especially favors sensitive skin).
Essential oils can be replaced by others like EO orange to add shine, lavender to strengthen hair and contribute to hair growth, mint to clean and refresh it. In the case of dandruff problems it is perhaps better to use camphor or even eucalyptus.
Procedure:
It is better that you heat the water to undo the potasic soap well and then you add the rest of the ingredients with the exception of the coconut betaine. It is especially important that you add the xanthan gum at this time to beat well in hot water in order to thicken and join the mixture.
Essential oils, as always, should be added at the end, when the mixture has started to cool down so that they do not lose their properties. Likewise, we will add the coconut betaine at the end of the process because if we beat it with the rest of the ingredients we could not finish with the foam.

Normally, with this shampoo, you will not need to use any type of conditioner because it leaves the hair extremely soft and hydrated. You can even add two whole tablespoons of oil, instead of just one, for extra hydration.
A THIRD RECIPE WITH A BABY SHAMPOO BASE
Sometimes it is very difficult to find natural surfactants like coconut betaine or some other ingredients like saponaria root. In this case, we can prepare a third treatment shampoo alternative for oily hair.
And it is that baby shampoos (or also neutral shampoos) tend to have a much more respectful formulation with the scalp than normal shampoos and, therefore, if you have a neutral baby shampoo, we suggest that you prepare this shampoo recipe homemade for oily hair.
Ingredients:
2 cups of water
1tbsp (15grs) of dried rosemary extract
1 tbsp (15 grs) of a low-fat oil (jojoba, hazelnut, olive …)
2 tablespoons of vegetable glycerin
One tablespoon (tbsp) of xanthan gum or guar gum.
20 drops of Salvia Sclarea AE, rosemary or also possible lemon AE, highly recommended for treating oily hair.
And half a cup of your baby shampoo.

Procedure:
In the hot water you will dissolve or infuse the rosemary, depending on whether you have the dry or fresh herb, and then add the oil, glycerin and xanthan gum while continuing to beat well with the mixer.
Finally, you will add the baby shampoo without whisking, just stirring a little to integrate the mixture.