With a hydrolate or infusion and a butter we can also prepare a base cream with good penetration if we use a self-emulsifying agent such as soy lecithin.
Like the cream based on shea butter and rosehip oil that we talked about in a previous post, this cream can be another of our daily hygiene essentials.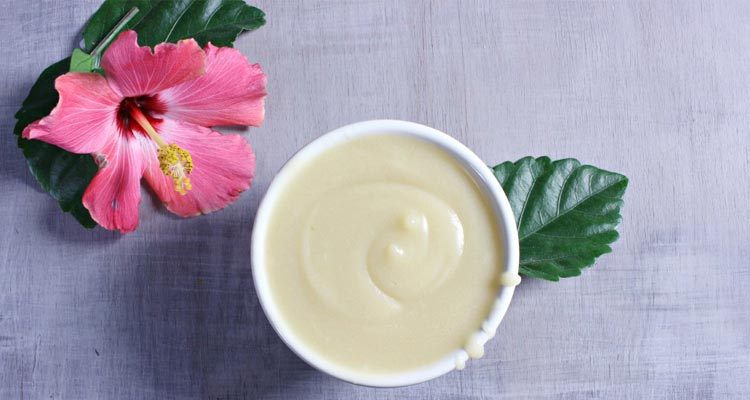 INGREDIENTS:
-Shea Butter (Butyrospermum Parkii Butter): This butter, from the African shea tree, contains vitamin A and E, both of which improve the regeneration of skin cells, and also contains cinnamic acid that is responsible for the protection that this lard provides against ultraviolet radiation.
– Lavender hydrolate (Lavanda angustifolia): When we make a homemade natural cream, we recommend using a hydrolate, as an aqueous part, to improve the texture and penetration capacity of the cream. In the case of this base cream, we have chosen lavender for its regenerative capacity and adaptation to all skin types.
-Soya lecithin: It is a natural emulsifier with a high content of vitamin E that enriches this cream and stabilizes it because by incorporating a hydrolate it is necessary that we emulsify it so that all the components can be integrated.
-Burití Oil (Mauritia flexuosa): This oil is very rich in carotenoids (mainly in beta-carotene) and also in oleic acid and alpha tocopherol. We have chosen this oil to provide our daily base cream with biological photoprotective qualities.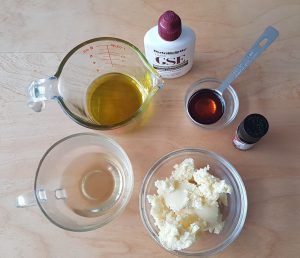 For example, to prepare 100 grams of protector we would put:
50 grams of shea butter
25 ml of buriti oil
25 ml lavender hydrosol
1 tablespoon of 10 grams of soy lecithin
Additionally we will add about 5ml of lavender EO, for example and, also, about 5ml of a preservative such as GSE (grapefruit seed extract) because, as we know, these types of recipes that contain water run the risk of quickly becoming moldy without the preservative.
PROCEDURE:
First put the lecithin with the hydrolate in a bain-marie and gently heat and stir vigorously until a thick emulsion is obtained.
Then, add the buriti oil and the butter, previously melted as well, without stopping to stir.
It will be necessary to mix everything very well at low speed so that it integrates and homogenizes because, as it has a hydrolate, this mixture, on the one hand, is more hydrating, but, on the other, it costs more to integrate. If you prefer a more fluid cream, you can increase the amounts of buriti oil or lavender hydrolate.

When the mixture has thickened, we will remove it from the heat and let it rest at room temperature. We will pack in a glass container if possible so that it is better preserved. If we have not added any preservative agent, it will be necessary to keep it in the refrigerator.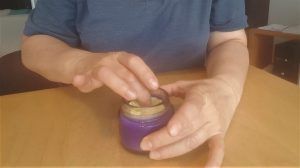 As you can see, it is a butter with a delicious aroma, a very pleasant texture and great penetration capacity.

We hope you liked our recipe and that you give us a comment if you decide to make it!