As I no longer use commercial cocoa bars since they were more and more synthetic and hydrated less (make no mistake, prices are maintained at the cost of lowering the quality of the product by adding more mineral oils and petroleum-derived paraffins. Think of the oil companies They often need to get rid of these oils and manufacturers can get them at much more competitive prices than natural cocoa butter.); I have therefore decided to recover all my empty cocoa bar cases and recycle them to take advantage of this totally natural cocoa bar formulation.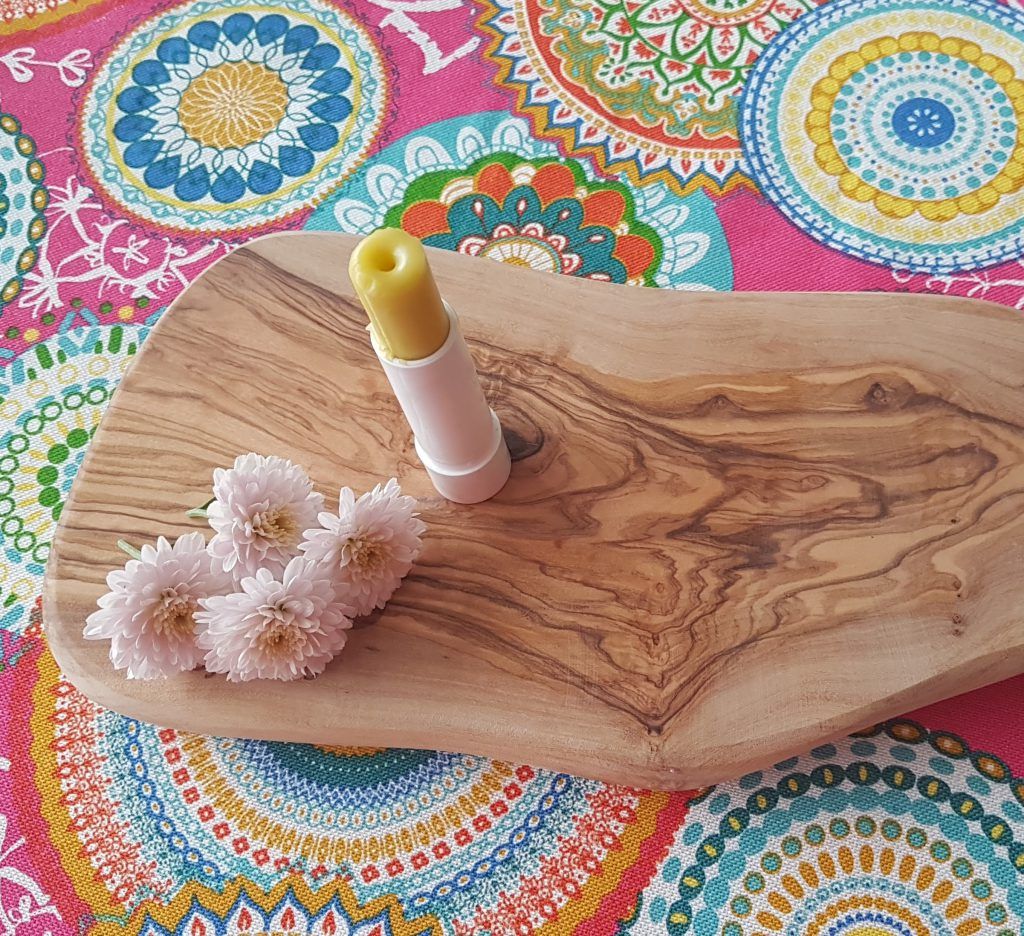 A homemade lipstick is important not only because it hydrates better than a stick saturated with synthetic ingredients, but also because we will avoid silicones, mineral oils (derived from petroleum such as petroleum jelly), lead and some other potentially carcinogenic ingredients of the which is currently being alerted.
I assure you that with this natural cocoa bar you will not spend the day rubbing your lips. Our recipe is totally natural and moisturizing since all its ingredients are capable of being perfectly absorbed by our skin. Beeswax moisturizes the skin and hemp oil and cocoa butter provide skin-protecting and emollient benefits in addition to vitamin E.
This recipe also admits, optionally, that we can add 2 grams of pigments to give color to our lipstick, or if we want it without color, but with photoprotective qualities, that we can replace the 2 grams of pigments with zinc oxide. In this case, I am not going to include pigments or photo protection because I want to make a very simple and moisturizing cocoa bar, and although zinc oxide would also provide emollient qualities, it usually leaves a white film on the lips due to the protection of mineral screen that composes it.
The pigments to give color to our lipstick can also be totally natural, such as, for example, purple beet powder or red clay, which can always be lightened with zinc oxide or given brown tones with cocoa powder or cinnamon. And, also, mica mineral pigments can be used which, although they are not of plant origin, are not harmful either since very little is needed and our skin does not absorb them. (They remain suspended in the product mix and do not dissolve).
LET'S GO WITH THE RECIPE:
As I was telling you, I have recovered all my empty cocoa bar cases to prepare it.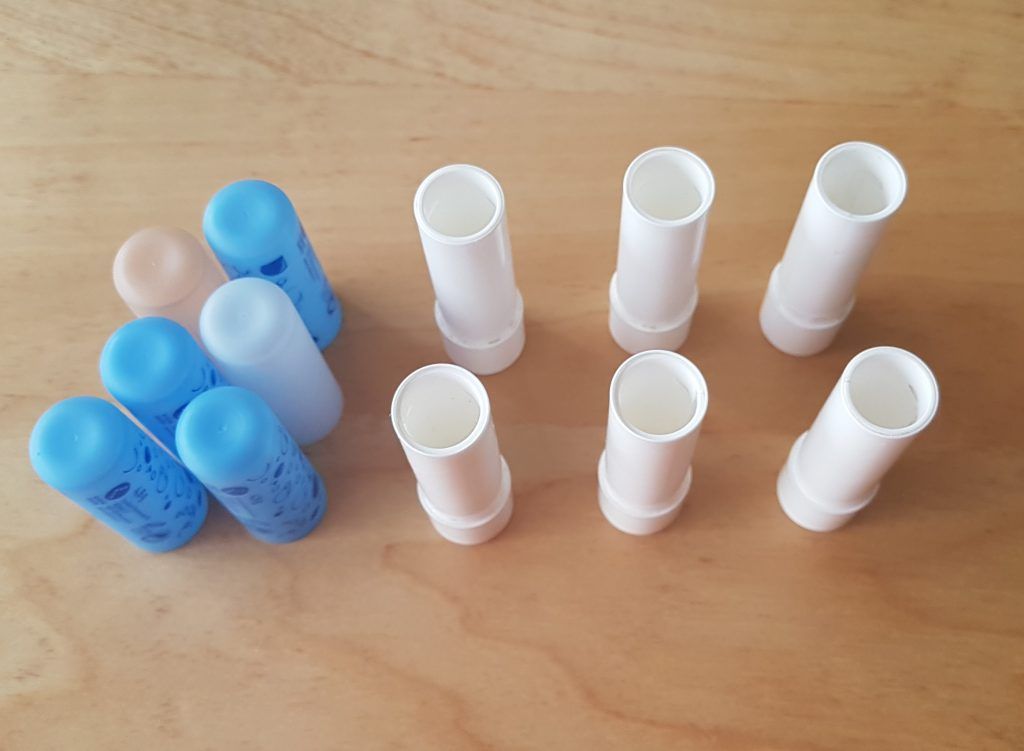 Ingredients to fill a standard lipstick of 4.8 grams:
Beeswax: 3 gr
Cocoa butter: 2 gr
Hemp or almond oil: 3 gr
Vitamin E: 3 drops or a small capsule.
Optional: Pigments or zinc oxide: 2 gr. Approx.
As I have decided to fill all the lipstick cases I had empty (six in total), then I am going to multiply this composition by six:
Beeswax 15 grs (18g would correspond to it, but I don't want it to be excessively hard)
Cocoa butter 12 grs
Hemp or almond oil 18 grs
Vitamin E: about 15 drops or between 2 or 3 capsules would be an adequate proportion.
Optional: If you are going to add zinc oxide to give it photo-protective qualities, I would try never to exceed 5 grams in this formulation because zinc tends to thicken formulations a lot and harden them excessively. Same with pigment, too much pigment doesn't dissolve well. It is better, if it is too light, to try to use a darker pigment, but in an amount that does not exceed 5 grams, if possible, so that it can be completely homogenized with the rest of the formula.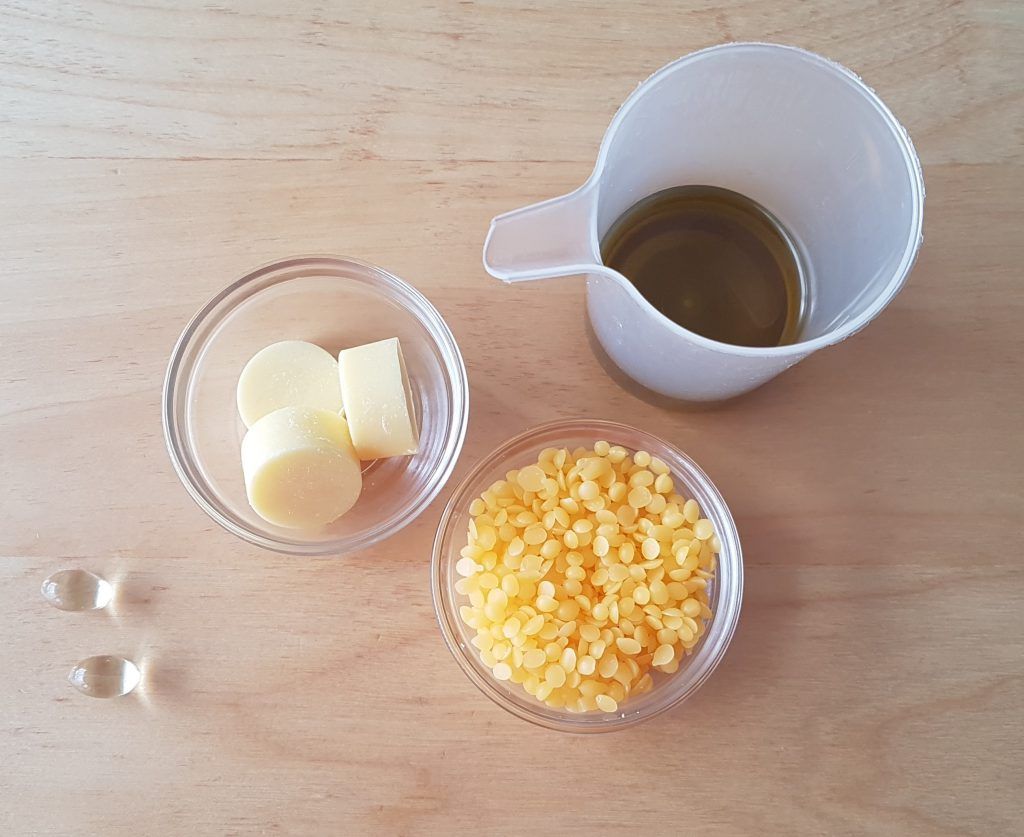 Instructions:
We will start by melting the wax and the butter in a water bath and dissolving the pigment in the oil, if we have decided to add pigment to it, and we will continue to stir very well so that the pigment is added to the oil. The melted wax together with the butter will be incorporated into the mixture of the oil with the pigment. In the event that we are not going to use pigment, this previous step, logically, will not be necessary.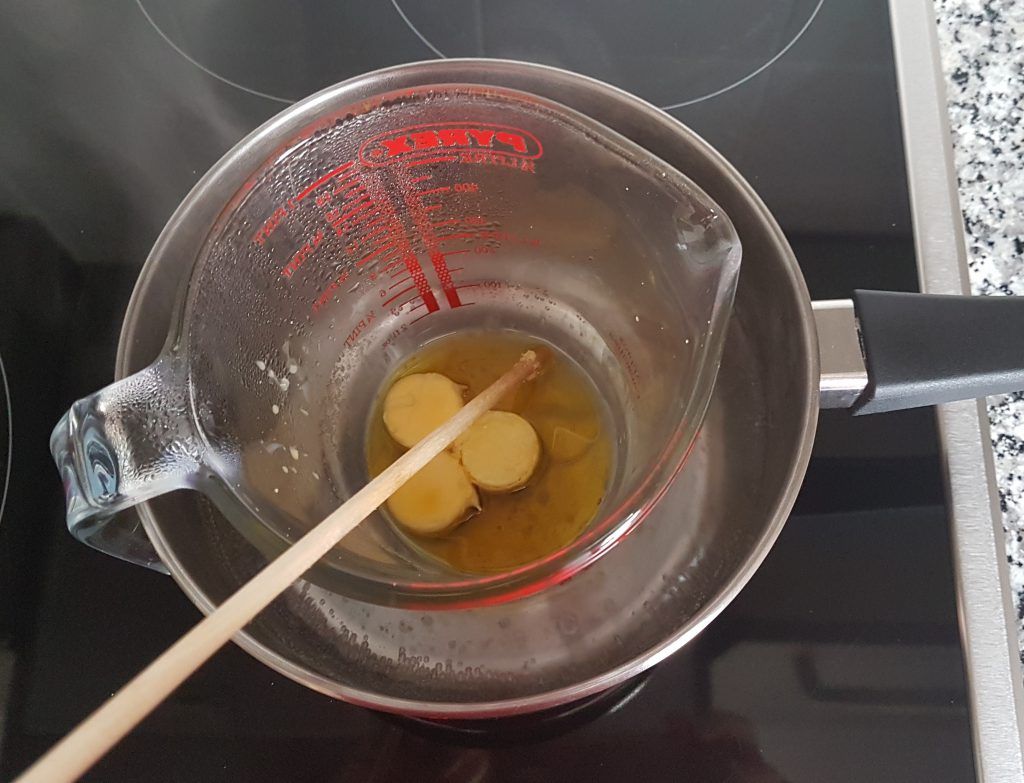 Next, and before it gets too cold, we will add the vitamin E capsule, stir and incorporate the mixture into the lipstick mold. After half an hour, more or less, we will see that our mixture will be very hard and ready to be used.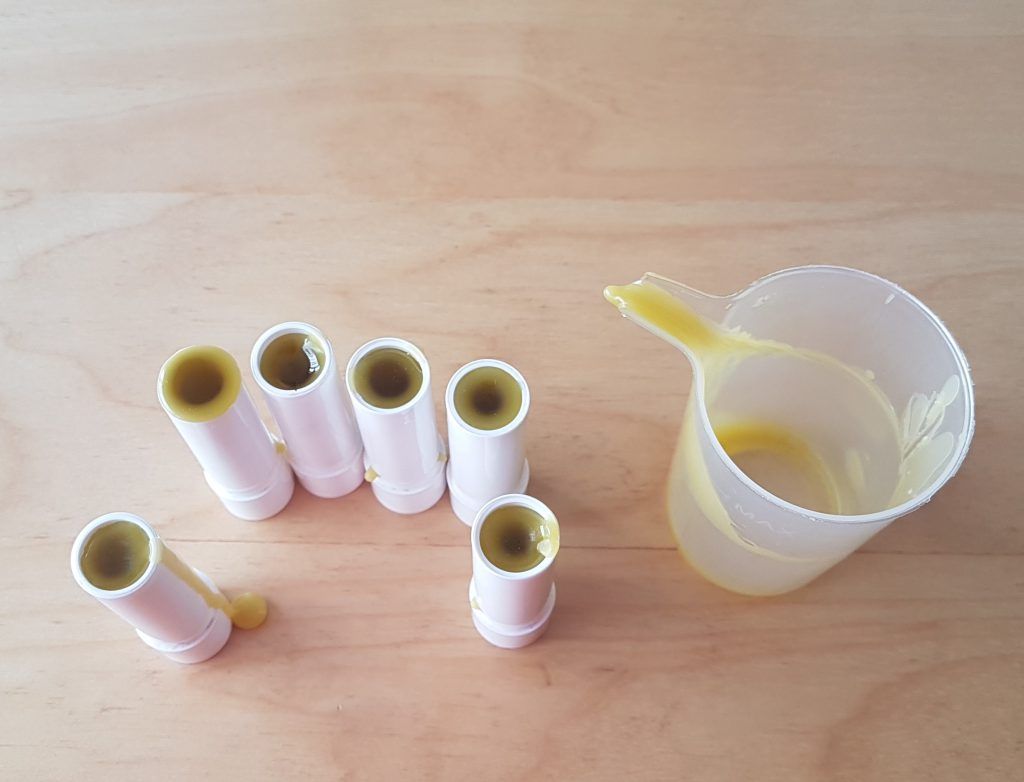 They were very greenish from the hemp oil that I have used, but I like to use this oil because it is very rich in nutrients and has many properties for the skin.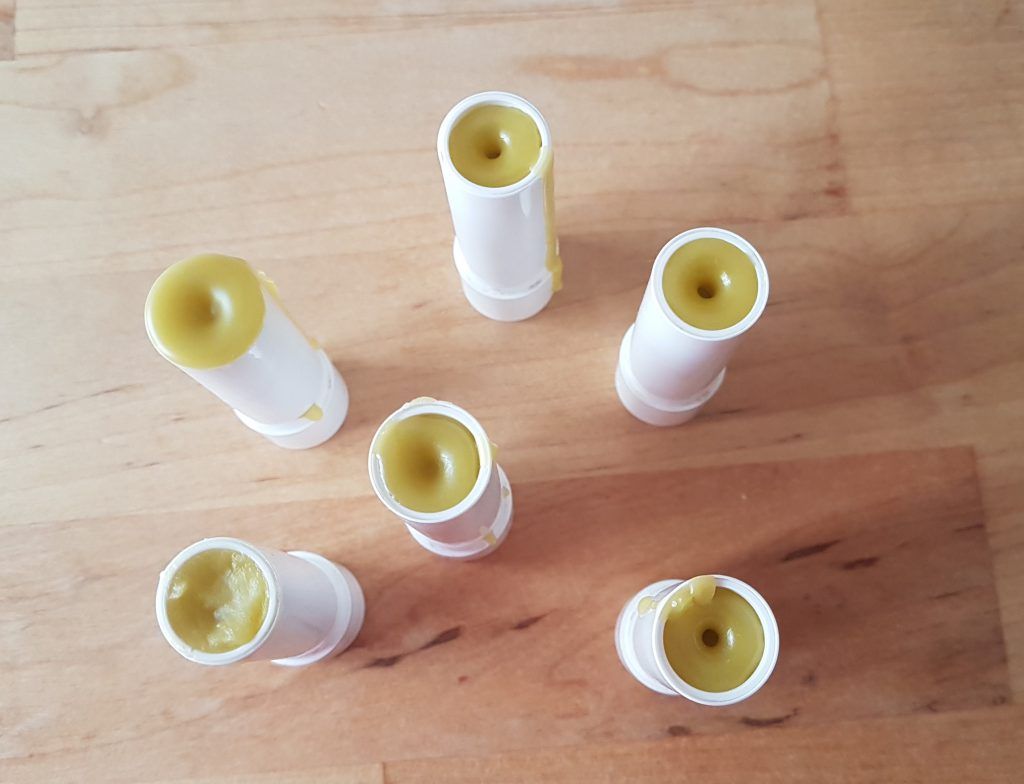 I hope you liked the recipe. If so, leave me a comment.