With this post we wanted to make a twink to the coming Christmas. If you need to prepare a last minute gift, this can be a great recipe.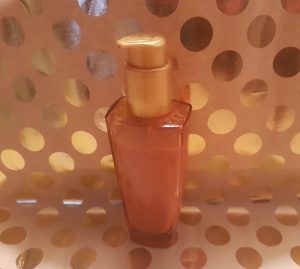 It is a completely natural fluid facial makeup, made with vegetable oils, vegetable BTMS, natural pigments and zinc oxide (the same that is used in ointments for baby's buttocks), and the most ecological and tolerable preservative that exists , the Leucidal, which is made from the fermentation of radishes by the bacteria Leuconostoc Kimchii.
Thus, a totally organic make-up for these holidays and 100% tolerable for all skin types.
FLUID MAKEUP BASE
In a previous post we had prepared a BB facial cream as a day base. This cream had the function of covering imperfections while providing sun protection.
You may be wondering now, why then a fluid makeup base?
Our fluid makeup base is lighter, while still providing sun protection. Its application is more comfortable and, perhaps, it may be, given its lightness, that it is more interesting when using it in summer.
On the other hand, now that we know the possibility of vegetal BTMS, we can use it to create other types of compositions as is the case.
PROCEDURE FOR THE FLUID MAKEUP BASE
We will start by putting the vegetable BTMS and the oil in the water bath. Next, we will add the zinc oxide trying to mix everything very well without stopping to stir with the rod and, finally, we will add the distilled water.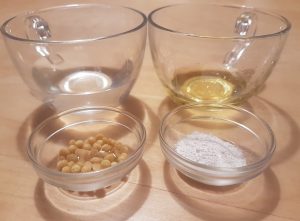 First phase
15 g of jojoba oil / replaceable with argan or almonds
2.5 grs of BTMS vegetable emulsifying wax
3 g of zinc oxide (not only acts as an emollient and sunscreen, but also helps to fix the pigments in our makeup)
70 grs of distilled water
Second phase
Color rectification with natural pigments
1TBSP (15grs) of red clay
1 tsp (5grs) beet powder
Final phase
Between 15-20 drops of Leucidal preservative
1 gram or one vitamin E capsule
PROCEDURE:
Our base must be more or less fluid.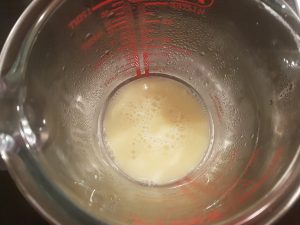 Now, let's proceed to color our fluid makeup base.
We will add a tablespoon of TBSP (about 15 grs) of red clay to our base mixture. If we have clear skin, it is possible that red clay is enough, but if we want to give it a slightly more vivid and rosy tone, we will also add a teaspoon (tsp = 5grs) of beet powder.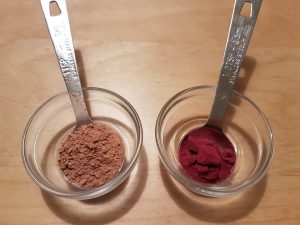 We remove and obtain approximately this result. It's time to add the vitamin E capsule and the Leucidal preservative droplets.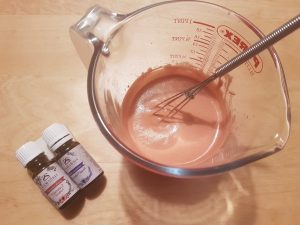 What we like most about this makeup is its fluid texture that prevents our face from being covered when applied. It is completely absorbed and evens out the face without producing a "trace effect" as other commercial makeups do.
In this image you can appreciate how fluid it is.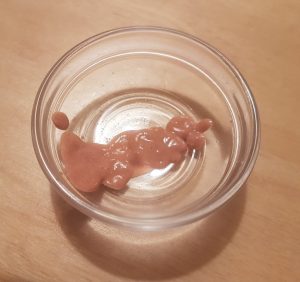 If you need a more opaque makeup, I suggest you prepare the BB facial cream that we advanced in a previous post because it is a much more compact cream.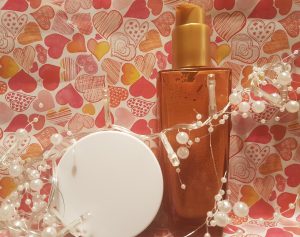 We have packaged it in a glass container to prolong its expir.
Isn't it a good gift idea?