Plastic is a huge environmental problem because, firstly, it is produced mainly from the increasingly scarce raw material of crude oil and; second, it is not biodegradable.
Plastic waste of all kinds, including micro-plastics, reaches the environment and the oceans in quantities that can hardly be estimated and enters the food chain. Small marine organisms such as worms, mussels, small fish, mistake them for food. And this is the reason why they are also present in our blood.
And it is that, until now, wastewater treatment plants have not been able to completely filter the particles, sometimes microscopic, from wastewater. In this way, the microplastics in our household hygiene products pass practically without obstacles into the water, and with the sewage sludge, also into the fields and into the air.
Plastic also remains in the environment for hundreds of years. This is especially a problem in lakes, rivers and seas. There are already incredible amounts of tiny plastic particles floating in them. Highly toxic pollutants, such as pesticides and other environmental toxins, accumulate on plastic particles.
Source: https://www.greenpeople.co.uk/blogs/the-beauty-hub/are-there-microplastics-in-your-cosmetics
The findings of recent years on the issue of microplastics and NGO protests have already made a difference. Many mainstream companies have announced that they will ban plastic particles from their products, including industry giants like Unilever and Procter & Gamble.
Unfortunately, many of these promises are vague and most manufacturers only promise to replace or have replaced very specific (solid) plastics like PE.
Did you know that most commercial shower gels also contain microplastics?
Some of the names hidden among this class of products that are of plastic origin:
Acrylates / C10-30 Alkyl Acrylate Crosspolymer; Ceteareth-12; Ceteareth-20; Carbomer; PEG-7 Glyceryl Cocoate; Styrene / Acrylates Copolymer; Laureth-2, Cyclohexasiloxan; Cyclopentasiloxan; PEG-40 Stearate; Polysorbate 20; PPG-14 Butyl Ether; Dimethicone; Polyacrylamid; Laureth-7; Dimethiconol; PVM / MA Decadiene Crosspolymer; PEG-40 Hydrogenated Castor Oil; Polysorbate 60; Steareth-2; Ceteareth-12; Ceteareth-20; Sodium Polyacrylate; PEG-200 Hydrogenated Glyceryl Palmate; PEG-3 Distearate; PEG-7 Glyceryl Cocoate; Ethylene / Acrylic Acid Copolymer; Polyacrylate-13; Polyisobutene; Polymethyl Methacrylate; Steareth-2; Steareth-21; Polyquaternium-10; Laureth-4; PEG-120 Methyl Glucose Dioleate; Polysorbate 20; PEG-100 Stearate… ..
And the list is so long that it will be enough for us to stick with some expressive and easy-to-remember names that appear everywhere such as dimethicone, copolymer, carbomer, cetearates, polyethylenes, polypropylenes and acrylates in their different variants.
Try to look only at the latter and you will see that they appear on almost all the labels of the hygiene and cosmetic products that we use regularly.
In fact, it is estimated that some of the following hygiene products: deodorant, shampoo, conditioner, shower gel, lipstick, hair dye, shaving cream, sunscreen, insect repellent, anti-wrinkle cream, moisturizers, hair spray hair, face masks, baby care products, eye shadows, mascara, etc. they contain plastic polymers, in some cases, in a percentage higher than 90% of the content.
Source: United Nations Environment Organization.
https://www.unenvironment.org/news-and-stories/story/whats-your-bathroom-hidden-plastics-your-beauty-products
That is why we have decided to propose a totally biodegradable natural liquid soap recipe.
"Soap is an ancient cleaning agent whose main ingredients come from plant material that, after saponification by means of an alkali, mainly sodium hydroxide (soda) or potassium hydroxide (potash), generate a 100% biodegradable soap salt with excellent cleaning properties. of clothes. Depending on the alkali used, solid soap forms can be obtained (by using caustic soda) or liquid soap forms (by using caustic potash). "
Source: https://www.bioecoactual.com/2018/05/21/jabon-o-detergente/
"Despite what many people may think, the fact of using soda or potash in the composition of a soap does not make it dangerous or "unnatural", quite the opposite. It is an indispensable compound in traditional soap without which no soap would be produced in any way. Vegetable fatty acids and alkali are completely transformed and are no longer present in the final result to give rise to the salt of vegetable fatty acids (soap) together with vegetable glycerin which has a great moisturizing power that prevents the degradation of the fabrics, among others. However, conventional detergent is made up of compounds of petrochemical origin that generate a greater environmental footprint on ecosystems".
WHAT CAN WE DO? Alternatives to cosmetics with micro plastics.
–Use natural cosmetics. Manufacturers of natural cosmetics do not use synthetic polymers in their products, so microplastics are not a problem in this case. At present, there is an increasing offer of organic natural cosmetics that you can also find on many online pages.
–Make our own hygiene products, which is the alternative to our blog.
–Avoid synthetic fibers, as they not only prevent us from perspiring correctly, which in many cases causes problems of dermatitis and itching due to the inability of the excretory system of our skin, sweat, to eliminate toxins. But they also use micro plastics in their manufacture that also go to wastewater. And it is that what hurts us is the same that hurts our planet. Although it may seem like a bombastic and presumptuous phrase, as Pocahontas sang, "We are all united in the great chain of life."
-And, without a doubt, always use ecological and fabric bags when we go to the supermarket.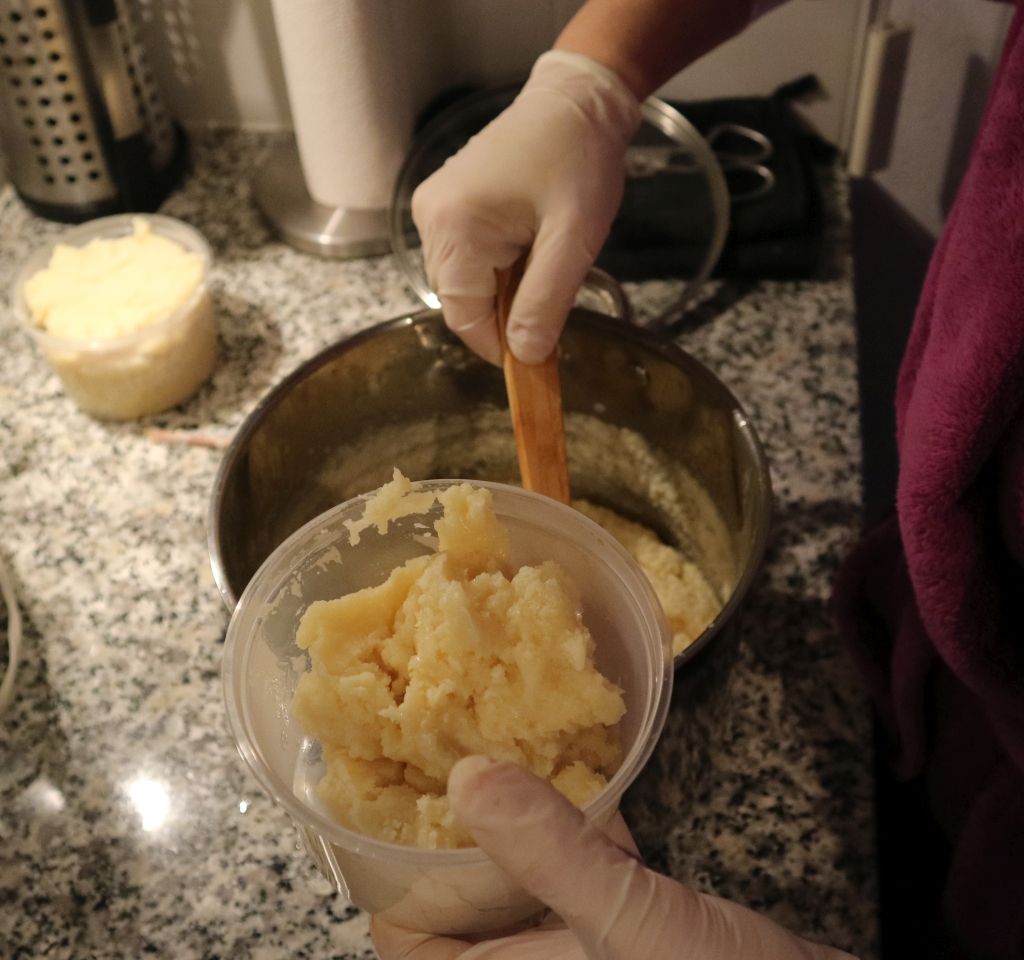 BOOKS TO FIND OUT MORE about the toxins in our hygiene products. We recommend these two books on natural cosmetics:
Toxic Beauty: How Cosmetics and Personal-Care Products Endanger Your Health… and What You Can Do About It.
Less Toxic Living: How to Reduce Your Everyday Exposure to Toxic Chemicals—An Introduction For Families. Also in kindle version.
And from our blog we want to collaborate in this task by showing you a way to make your home hygiene products.
For this reason, in this post, we are going to make homemade potassium soap paste. With this paste, making liquid soaps and shower gels is very easy.
LET'S GO WITH THE RECIPE TO PREPARE our own gels and liquid soaps based on natural potash soap.
This soap is made using a hot process, the ideal is to have an electric pot to make it, but it is also possible to do it with a conventional pot.
To make this soap we will use potash instead of soda. At the beginning, we will proceed in the same way as with cold saponification.
That is, once we reach the trace (the mixture thickens achieving a texture similar to that of custard), instead of moulding it, we will heat it until it becomes saponified (it is the reaction from fats, alkali and water resulting in soap).
As with cold saponified soap, it is necessary to take into account basic safety rules, such as: mixing potash with water in a ventilated place and wearing gloves and protective goggles to avoid possible splashes that could burn us. Also use stainless steel, glass, plastic or wooden utensils that do not react with potash, as it happens with other metals.
INGREDIENTS:
490 g olive oil
140 g castor oil
70 g coconut oil
In total, 700 grams of fat that we will mix with a 1% greased envelope because, unlike with cold saponified soaps, a very low greased envelope will prevent unsaponified fat from remaining and will make our liquid gel look better and more quality.
597 g of distilled water, or, at least boiled, this is important if we want to obtain transparency. If we do not care that our gel is misty, we can simply add normal water. We recommend distilled water because then the soap is clear and very beautiful.
149 g of caustic potash (be careful, it is not the same as caustic soda to make solid bar soaps). In fact, the method with potash is not the same either, because what we will do is cook the soap "hot method" and we will obtain a soap paste.
The procedure is not as complicated as some say. It is advisable to do it in an electric pot to keep the temperature constant, but if you do not have an electric pot, as we do not, it will be enough for you to use a large pot and try to maintain a constant medium heat without the temperature rising excessively.
LET'S GO WITH IT
After weighing the butters and melting them previously, we will add the "bleach" (a mixture of water and potash) that we will have prepared separately in a high temperature resistant pyrex glass container. It is also convenient that to stir and mix it we use a wooden spoon because the bleach reacts with metals. In addition, as you already know from bar soaps, these kinds of things must be done in a well-ventilated place so as not to breathe the toxic fumes that are released from the reaction.
WE GO ON …
With the oils already heavy and melted in our pot, we can start adding the bleach without stopping stirring with the wooden spoon.
Now we are going to start cooking our mixture, and this requires, as we already said, a constant medium heat and not stop beating. We will have to use the electric mixer often, every 5 or 10 minutes, while the cooking process lasts, which will take us (with this formulation) between 20 and 30 minutes.
There are formulations that need an hour to cook, but it is not the one we have chosen here to begin with. This is a very easy formulation with very good results. You will see.
The cooking process will be over when we see that our mixture begins to thicken and turns into a paste similar to mashed potatoes or applesauce. At that time, we can turn off the fire without stopping to stir our pasta.
Now our pasta is ready to move on to the next phase: making gels and liquid soaps with all kinds of uses. From shower gels, hand soaps, ecological pesticides for our garden, etc. which, in case you didn't know, are also prepared with potassium soap.
Don't miss our next post in which we will show you how to prepare a homemade shower gel from the potassium soap paste that we have just cooked!